Hey! Long time, no blog. Sorry about that, but Stevie Joe's been a little busy. Over the Labor Day weekend, I put together a candlelight peace vigil right in downtown Junebug Holler. Unfortunately, despite my long hours of preparation and planning, the event did not go over well.
The only official attendees were Prudy (from the Junebug Cafe and Internet Lounge), Pastor Luke (who will sign up for just about anything with candles), and myself. There was, however, a sizable "war vigil" organized by Junior and Dickie Jensen. They got a bunch of folks to come downtown with the false promise of free beer. What attendees received instead was a water pistol or super-soaker.
Angry mob with squirt guns and three peaceniks with candles. You do the math.
Anyway, I was wearing my new
"I'm Already Against the Next War" t-shirt
, and how appropriate it was. It seems that the White House and Pentagon are working out
a plan to bomb the tarnation out of Iran
over a 3-day period. Sounds good. What possibly could go wrong?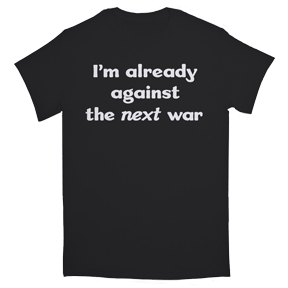 Peace out,
Stevie Joe Parker